The house with pool consists of two apartments, each sleeps 4+2 persons - apartment Lavender on the first floor and apartment Rustico on the ground floor. Each apartment has two bedrooms, a living room, kitchen and bathroom. All rooms are bright and sunny, with French doors that open onto a private, generously proportioned balcony/terrace overlooking the sea and hillside. The backyard contains a spacious patio with a gazebo/pavilion, a summer kitchen, a big barbeque and a stepwise layered garden with Mediterranean herbs and a swimming pool.
The neighbouring house (10 meters away, without pool) contains three more apartments which are a bit smaller and less luxurious, but they are also priced significantly more favorable. Apartment Andromeda is a loft for 4+1 persons, apartment Neptune is beneath it, also for 4+1 persons, and studio apartment Piccolo for 2 persons is in the ground floor. These apartments do not have access to the patio with garden and swimming pool, but they are enriched with spacious terraces with views of the sea and the adjacent pine trees.
---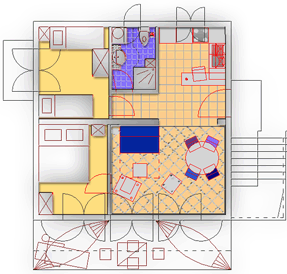 Apartment Lavender, built in 2005, has a stylish, contemporary interior. Modern furniture and ambiental lighting give character to the open plan living-dining area, with a huge sun terrace overlooking the sea. A convenient breakfast bar separates the living space from the fully equipped kitchen. Beside four beds in the bedrooms, there is a sofa that pulls out into bed in the living room.
The colours were chosen from Dalmatian countryside, to carry in soothing blue tones of the Adriatic sea, expressive yellow shades of immortelle and broom flowers, gentle hue of lavender... The living room was paved in a manner of old cobbled squares of Sibenik, decorated with a handful of white marine pebbles. Blanched hardwood floors give warmth and character to the bedrooms. Blue waves are splashing the walls of children's room. The light-blue sky has spilled all over the ceiling, covered with white clouds, scattered stars and the moon. High, leaned roof makes the whole apartment spacious and airy. Bathroom and kitchen walls look as if somebody played a game of Tetris with the Ceramiche Ragno tiles, and the bathroom floor is decorated with a hand-made mosaic depicting fish and sailing ships.
---
Apartment Rustico was built in the 90s and completely refurbished in 2006 including installation of a new kitchen. The furnishings of this apartment are simple and homey in an eclectic kind of way - colourful wooden chairs, painted beds and cabinets, old fashioned closets and nightstands. Warm-coloured walls are discretely decorated with souvenirs from antique Dalmatian households. Unique nightstand lamps bring in a little piece of beach. Spacious balcony is shaded by a gnarly, old almond tree.
This apartment has two entrances - one from the front yard and the other from the enclosed patio with garden. Guests often choose to eat outside, near the summer kitchen and the barbeque area. In warm summer days the maestral breeze and rustling of leafs from the wine tree canopy make that area a pleasant retreat.
---
Apartment Andromeda, built in 2010, is characterized by a high pitched roof which makes it luminous and airy. Modern furniture, with rounded lines in beech colour, gives warmth to the living room with kitchen and dining area. Sofa can be easily converted into the fifth bed when necessary (as addition to the double bed in one bedroom and twin beds in the other). To create a romantic evening mood, the wall above the sofa contains little embedded lamps that make impression of the clear starry sky, with the Andromeda constellation which bears the name of this apartment.
The living room extends to the terrace with a georgeous sea view. It is covered with a foldable sunshade, strengthened by a solid structure in order to guarantee a pleasant shade even in case of a stronger wind.

The sleeping area consists of a double bedroom and a twin bedroom. A view of large dark-green pine trees provides a fresh feeling to both rooms.
---
Apartment Neptune was completely renovated and expanded in 2011, so it now looks as if it was newly constructed. The living room and the kitchen with dining area are full of light throughout the day thanks to large southwest-oriented windows. Bright orange walls and matching light-green kitchen tiles add an extra vibrancy. The dining table is placed near the windows for a lunch with the sea view. A sofa (which easily converts into a bed) comes well for an afternoon rest. To shade the daylight, windows are equipped with bamboo blinds and electric roller-shutters.
The bedrooms are painted in delicate pastel tones and furnished with a simple and elegant furniture (one bedroom has a double bed and the other has twin beds).
This apartment's advantage is a spacious terrace that extends along its whole length, lining two sides of the house. The frontal portion of the terrace overlooks the sea, covered with a foldable sunshade, while the lateral portion follows the adjacent grove, overshaded by a lush tree canopy. A large table with chairs, loungers, an outdoor sink and a solar shower are useful extras.
---
Studio apartment Piccolo is ideal for couples that do not seek luxury but instead care more about affordable price of accomodation and its proximity to the beach. One room is a combination of living area, bedroom, kitchen and dining area, only bathroom is separate. The apartment was renovated and expanded in 2015. It is fully equipped, similar to our other apartments, to make sure you do not miss anything during your stay. Right in front of the apartment there is a small covered terrace with an outside table and chairs.
---
Apartment

Laven- der

Rustico

Andro- meda

Nep- tune

Piccolo
pool (heated)

√

-

air-conditioning

√
√
√
√

√

cooling fan (on a pedestal)

√
√

√

√

-

heating

√
√
√
√

√

bathroom heater

√
√

√

√

√

linen and towels

√
√
√
√

√

toilet paper

√
√
√
√
√

cosmetic utensils

√
√

-

-

-

beach towels and soft mats

√
√

-

-

-

portable beach umbrellas

√

√

water cooler / dispenser
√
√
√
√

√

telephone

√
-
-
-

LCD TV (size)

√ (102cm)
√ (82cm)

√

(56cm)

√

(82cm)

√

(56cm)

satellite receiver (Astra+Hotbird)

√
√
√
√

√

DVD home cinema, 5+1 speakers

√
√
-
-
-

movie collection (DVD/DivX)

√
√
-
-
-

Hi-Fi system with CD player

√
√
√
√

√

PlayStation / Xbox with more than 40 videogames

√

√

-
-
-

radio

√
√
√
√

√

PC

√

-

-
-
-

free broadband Internet access (WiFi ADSL)

√
√
√
√

√

fridge with freezer

√
√
√
√

√

stove

(4 ring gas/electric)
√
√
√
√

√

oven

√
-
√

√

microwave oven

√
√
√
-
-

mini-oven

√

-

-
-
-

dish washer (for 12 sets)

√
√

√*

√

-

washing machine

√
√

√

hairdryer

√
√
√
√

√

steam iron

√
√
√
√

√

vacuum cleaner

√
√

filter coffee maker

√
√
-
-
-

espresso maker

√
-
-
-

electric kettle

√
√
-
-
-

mixer

√
√
-
-
-

toaster

√
√
√
√
-

grill sandwich

toaster

√
√
√
√
-

hand blender

√
√
-
-
-

electric food chopper

√
√
-
√
-

electric citrus press

√

√

-
-
-

anti-mosquito devices

√
√
√
√

√

sailing schedule and beach map

√
√
-
-
-

baby high chair

√
√

baby bed (on request)

√
√

telescope (130/900 mm)

√

-

outdoor furniture (tables, chairs, deckchairs)

√
√

√

√

√

hammocks

√

-

darts

√

-

swing

√

-

barbeque (stocked with firewood)

√
-

summer kitchen (fully equipped)

√

-

outdoor showers (solar-heated)

√

√

bicycles (free)

√
√
child seat for

bicycle

√
√

scooter

√

-

boat with motor

√

berth

for your boat (free)

√
deck chairs and parasols on the beach
√
√
airport shuttle
√

parking in Sibenik (free)

√

garage in Sibenik

√

private transfer to the island

√

welcome lunch (free)

√

-

grocery deliveries (free)
√

-

half-board or daily private chef

√

-

daily maid service and laundry

√

-

concierge service and 24 hour on-call assistance
√

-

private picnic daytrips by sailing boat

√
Distance from the apartments:
village centre

, port

,

shop, first-aid station

500m

diving centre

700m

closest restaurant

50m

beach (pebbly/concrete)

30m

first neighbours

1

0m
Pets are not allowed (we provide pet care service during
your stay)